Delivery & Packing Information
Delivery
The flowers you order will be packed fresh from our nursery in the Isle of Man in the afternoon and delivered to the address of your choice. We use highly experienced couriers, who will take as much care of their fragile cargo as we have taken in putting your bouquet together.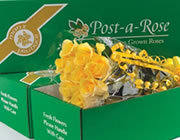 Bouquets in our standard roses range are sent by First Class Parcel Post and 94% arrive next day. This means we can reach every location within the United Kingdom. In addition, the reasonable cost of First Class Parcel Post is a benefit we can pass on to our customers and enables Post-a-Rose to maintain our very competitive prices. The delivery cost is included in the price of the bouquet, absolutely no extra charges will be added.
As standard postal services are used for despatch, Post-a-Rose cannot guarantee an exact delivery date but we do despatch to ensure bouquets do not arrive late. All delivery dates are deemed to be accurate to within one day.
We also offer a Guaranteed Courier Delivery method at a small additional charge that guarantees next day delivery or a specified day by Royal Mail's Special Delivery servivce.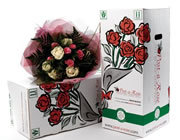 Deluxe Rose Bouquets are delivered by Royal Mail's Special Delivery service and are guaranteed next day or specified day. The delivery cost is included in the price of the bouquet, absolutely no extra charges will be added.
Gifts that are sent by courier delivery can be tracked via Royal Mail track and trace service. Enter your consignment number, which will be included in your despatch confirmation email on the appropriate website.
If your order is received before 3.30pm it can be despatched that same day. Although at peak times, such as Valentines, Mothers Day and Christmas, we recommend that you book two to three days in advance of the required delivery date.
If the roses are required to arrive on a Saturday they will normally be sent on Thursday. The bouquet may arrive a day early, but this saves the possibility of them being delayed over a weekend.
A guaranteed Saturday Delivery is offered on all Standard and Deluxe Bouquets at an additional cost of £7.99 or £5.99 respectively. Our courier will delivery on a Saturday between 8am and 1pm.
Deliveries will be made Tuesday to Saturday. For more information call 01624 662410 or email customerservice@post-a-rose.com.
We can accept orders up to a year prior to delivery. Whenever possible we prefer at least 48hrs notice of order. Our courier undertakes to attempt delivery before 5.00pm on the day of delivery.
If the recipient is not at the delivery address you state at time of delivery, our courier will attempt to find a safe place to leave your bouquet e.g. next door or in a porch. In the instance where there is no safe place our courier will leave a card for the recipient, with a telephone number, to enable a mutually convenient delivery time. Please note due to their perishability it is essential that the flowers are delivered quickly.
Our delivery service is NOT available on Sundays or UK public holidays. Where orders have been placed for delivery on any of these dates and we are unable to contact you in time, we will deliver, where possible, the flowers the day before or the day after the date requested.
Packaging
Our Roses are delivered in customer designed attractive gift boxes to ensure your bouquet arrives in the best possible condition.
The deluxe bouquets are hand-tied, so that they can be put straight into a vase without any further arrangement. The roses are wrapped and positions so that they will not move about in the box and get damaged and the stems are wrapped in special water-retaining material, ensuring the flowers do not dry out.
Also enclosed is a sachet of Chrysal rose conditioner, care instructions and your message.