Sunflowers Care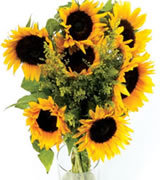 Sunflowers have naturally arched necks and look best in a tall narrow vase. They are best displayed so that there are only a few inches of stem that shows above the rim of the vase.
Remove the leaves below the water line.
While holding the stem under water, cut 2 to 3 cm off the stems. Do not let the freshly cut stem dry out.
Fill a vase with water and add the flower condition, which came with your bouquet.
Place your sunflowers in a tall vase to provide adequate support for their height.
If possible leave your flowers in a cool dark room to condition for a few hours after arranging.
Temperature is an important factor in the vase life of these flowers. So display your fresh cut sunflowers in a cool area, out of direct sunlight and away from drafts and heat.
Remove spent leaves to keep bouquet looking fresh longer.
Keep you sunflowers well hydrated as this helps to support their heavy head weight.